Exhibition credits
Curators: Sarah Kenderdine, Jeffrey Shaw, Hing Chao
Exhibition scenography: Sarah Kenderdine, Jeffrey Shaw
Exhibition design concept: Matthias Gommel, 2xGoldstein
Architectural design: Matthias Gommel
Graphic design: 2xGoldstein
Custom engineering design & manufacture: Nelissen Decorbouw
Curatorial assistant: Giulia Bini
Produced for ArtLab by EPFL's Laboratory for Experimental Museology in partnership with City University Hong Kong and the International Guoshu Association.
Kung Fu Motion builds on previous exhibitions curated by Sarah Kenderdine, Jeffrey Shaw and Hing Chao that were presented at City University of Hong Kong, Hong Kong Heritage Museum, Hong
Kong Visual Arts Center and Immigration Museum, Melbourne, Australia: 300 Years of Hakka Kung Fu – Digital Vision of its Legacy and Future (2016), Lingnan Hung Kuen Across the Century: Kung Fu Narratives in Hong Kong Cinema and Community (2017).
---
Installation credits
Sarah Kenderdine & Jeffrey Shaw: Re-Actor Kung Fu Analytics, Linear Navigator of Kung Fu Weapons, Panoramic Navigator of Jiao Festival, Master Ip Chi Keung's panoramic studio and slow-motion projection; Oscar Lam video panopticon Hing Chao, Waterproof Studios, vfxNova:
Lam Sai Wing reconstruction Greg Roy, Marien El Alaoui, Elodie Poroli & Johann Blais: pose matching game and Re-Actor interactive
Tobias Gremmler: Kung Fu Motion Visualization
Tang Ming Tung: photos for Hong Kong urban/rural kung fu panorama
John Choy: panoramic photo of Master Ip Chi Keung's studio
Salon Films (HK) Ltd.: Hakka kung fu documentary, Jiao Festival drone video recordings
Martha Burr: African Prince documentary
Raphael Chau: Jiao Festival fisheye video recordings
Leoson Cheong: Jiao Festival 360-degree video recordings and post-production
Lau Chi Fung: Motion capture recordings and post-production
Nikolaus Völzow: Panoramic navigator application software
Supporting organizations
College of Humanities, EPFL
Digital Humanities Institute, EPFL
Laboratory for Experimental Museology, EPFL
Hong Kong Arts Development Council
Hong Kong Leisure & Cultural Services Department
City University of Hong Kong School of Creative Media
N7 Communications
Celestial Picture Ltd.
Shaw Productions Ltd.
Ernie Wolfe Gallery
Hanart TZ Gallery
Lam Sai Wing Hung Kuen Research Society
Swiss Wushu Federation
Lausanne Wushu Institute
Olympic Foundation for Culture and Heritage
ZKM | Center for Art and Media Karlsruhe
ICOM-CIDOC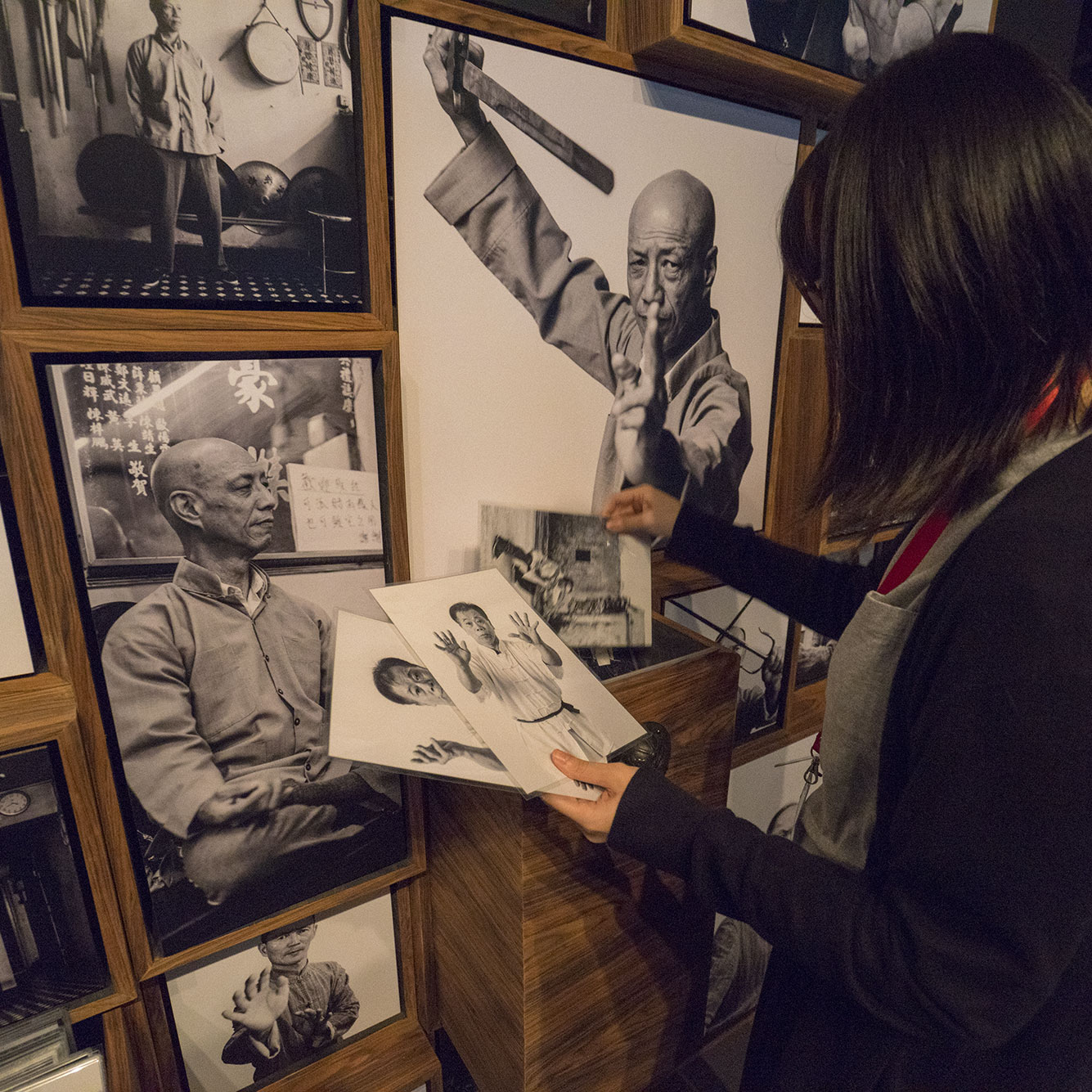 Exhibition production team
ArtLab director: Sarah Kenderdine
Production management: Giulia Bini
Technical installation: Vincent Jaccoud, Patrick Chouard, Joe Leung, Ching Lee
Communications coordinator: Luc Meier
Website: Virginie Martin-Nunez
Exhibition staff coordinator: Valérie Kaltenrieder
Printing: Print Center EPFL
Evaluation
iShoU, Laboratory for Experimental Museology, EPFL
SYMPOSIUM/SUMMER SCHOOL
Archiving Intangible Cultural Heritage –
a symposium for living traditions
Co-chairs: Sarah Kenderdine & Nicholas Croft
Opening Kung Fu performances
Organized by Urs Krebs, Vice President, Swiss Wushu Federation.
Practitioners:
Benjamin Felber, disciple of Patrick Jeannotat,
Wing Chun: Mok Yan Chong (Wooden Dummy)
Thorsten Berndt, disciple of Wu Meiling, Hung Kuen:
Bat Gwa Cheung (Spear)
Pierrick Porchet, Lausanne Wushu Institut,
Meihuaquan (traditional northern Style)
Kenny Krebs, seven times European Champion, Chen Style Taijiquan
Stefan Schärer, disciple of Wu Meiling, Dan Gung Kuen (a version of Gung Ji Kuen in the Wu Shaoquan lineage)
Patrick Jeannotat, Wing Chun, Pa Cham Do (Butterfly Swords)
Pascal Rüttenauer, Son and disciple of Wu Meiling,
Fu Hok Seung Ying Kuen (shortened version)